Invest in Mexico: 3 projects you should know in Tulum
Posted by Kelman Desarrollos on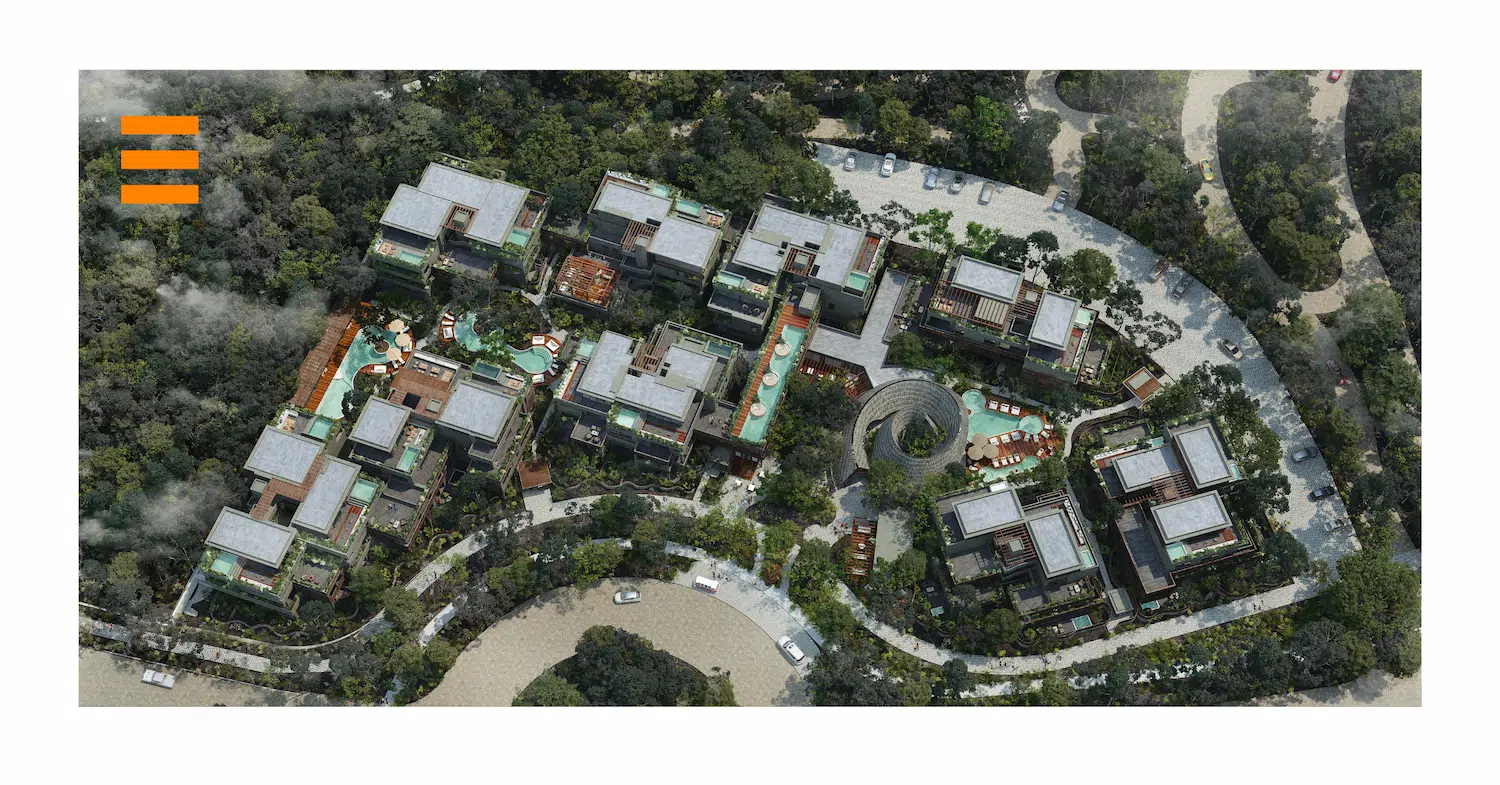 Tulum has not only become one of the most enchanting corners of the world, it is also one of the most profitable places to invest in Mexico. Perhaps you, like other investors around the world, have your sights set on this paradise on the Mexican Caribbean. We want to introduce you to the top 3 projects that undoubtedly are an excellent opportunity to maximize your capital.
Ophelia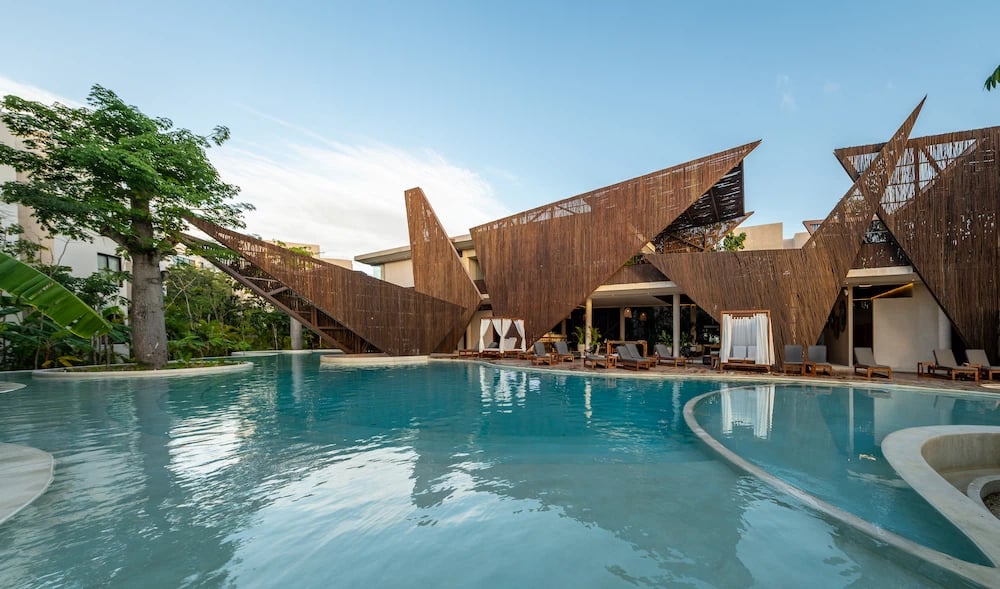 Ophelia exquisitely integrates luxury, design and nature in 102 studios and 63 apartments, designed to surround you in an exclusive atmosphere. The architecture design has in mind the peaceful life that the residents might be looking for, with the charm of living in a community of people alike.
Location
Ophelia is located in one of the most valuable locations in Quintana Roo, next to the first planned community in Tulúm: Aldea Zama - This area has registered a growth of up to 30% of its initial value since 2008 and the trend is estimated to keep up steadily over the next 15 years.
Ophelia enjoys a privileged location where the pristine beaches are a mere 10-minute bike ride away. The convenience of easy access to popular destinations such as Cancun and Playa del Carmen through the well-connected federal highway is an added advantage, making it one of the best options to invest in Mexico.
Amenities
Living in Ophelia is like living in an exclusive beach club all year long. Whether for vacationing, living or renting on platforms such as airbnb, you will find a perfect match for your lifestyle. Amongst it's amenities you'll find:
Hammock area
Open kitchen
Bar
Pool and Jacuzzi
Lobby and controlled access
Coworking area
Gym
Laundry
Electric bikes to move inside the complex
The strategic placement of Ophelia ensures that investors can enjoy the best of both worlds - the tranquility and natural beauty of Tulum, as well as the vibrant energy and attractions of neighboring cities, all within a comfortable drive.
Humana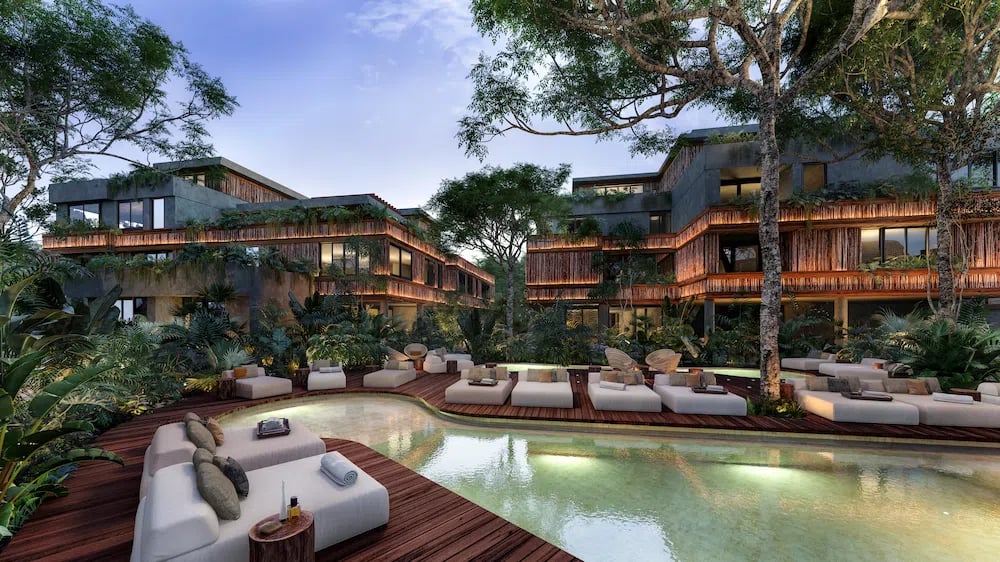 Harmony and connection are the words that characterize this innovative real estate project. Humana seeks to rescue a way of life in connection with oneself and the environment, promoting the enjoyment of nature and the community.
Location
Humana is located in Tulum 101, an area located between the city and the coastal zone, which combines large protected natural areas with spaces for real estate projects, hotels and commercial areas.
In addition to the great added value, one of the most attractive elements of this area is its planned and controlled growth, respecting natural areas and favoring the responsible use of land and resources.
Amenities
The residences share facilities and amenities with Humana Hotel, giving it an unparalleled touch of first class service. These include:
Local cuisine pavilion
Motor Lobby
Outdoor cinema
Exhibition space
Observation deck
Subway spa
Terrace Lounge
Art and creation center
Urban plaza
Boutique stores
Restaurant
Bar
Humana's design introduces a first class sustainable and ecological concept, never seen before in Tulum. The natural touches, the interior and exterior architecture, as well as the amenities inside the complex promote a sustainable lifestyle, in connection with you, your community and the environment.
Selvanta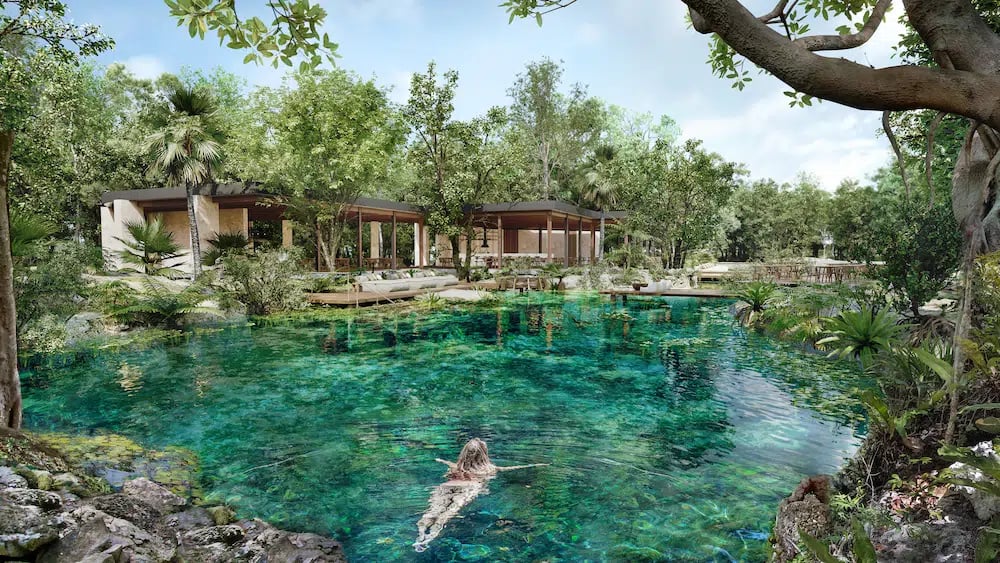 Imagine waking up every morning to the sound of birds singing, watching the sunrise over the trees and feeling embraced by an exuberant living jungle. That is Selvanta, a luxury apartment complex located in an area of enormous capital gain between the jungle and the sea.
Location
Selvanta is located in front of the Jaguar Park, a conservation sanctuary of natural wealth of almost 300 thousand hectares. The vocation and architectural design of this space privileges the conservation of green areas, animals and the privilege of living in harmony with nature.
A few minutes from the emblematic archaeological zone, its location right between the jungle and the sea envelops its residents in an unparalleled charm.
Amenities
Selvanta embodies the perfect blend of indoor and outdoor spaces, offering everything necessary for a rewarding and rejuvenating lifestyle. With amenities such as a cenote bar, a tranquil yoga palapa, a refreshing swimming pool accompanied by hammocks and a lounge area, a pet park for furry friends, and a well-equipped ClubHouse, amongst others:
Amphitheater
Contemplative gardens
Children's splash pool
Linear park
Petanque and padel court
Jogging circuit
Bikeways
Mini cinema
Market and pharmacy
Coffee Shop and restaurants
Gym
Bathhouse and sauna
And many more
Here you won't need to worry about anything, Selvanta ensures that every aspect of your life is cared for. Whether you seek relaxation, socialization, or active pursuits, this exceptional community offers a diverse range of facilities designed to enhance your overall well-being.
Tulum: the perfect scenario to build the life you always dreamed of
With Ophelia, Humana and Selvanta as your partners, you gain access to both, essential and luxurious elements that will take your desired lifestyle to new heights: Ophelia offers a prime location alongside Aldea Zamá, the renowned planned community in Tulum, while Humana provides exceptional residential options designed to cater to your well-being. Additionally, Selvanta presents an exquisite blend of indoor and outdoor spaces.
These developments not only cater to your desires for a fulfilling life but also offer a promising profit overview, making them ideal choices to invest in Mexico. Your journey towards your best future begins now.