INVESTING IN TULUM:
how to take advantage of the best real estate opportunity in Mexico

Investing in Tulum has become a desirable and profitable option for many visionary people. In addition to its beautiful beaches, Mayan ruins, and bohemian charm, Tulum attracts investors looking for the best profit. Its upgrowing tourism, booming real estate, and relaxed lifestyle it's a guarantee of capital appreciation and long-term financial security.

In addition, the balanced lifestyle and the exquisite recreational and wellness activities make Tulum an attractive place for those seeking a vibrant and prosperous life. Buying a property in Tulum will become one of your best assets, either to safely diversify your capital, as an option for medium-term living, or as a patrimonial asset.

Read on and discover everything you need to know to invest safely in Tulum.
Is it worthwhile to invest in Tulum?
Tulum, the paradisiacal corner of the Mexican Caribbean, has become one of the most attractive and promising investment destinations in Mexico. Because of its beautiful pristine beaches, ancient Mayan ruins, and bohemian charm, this picturesque town has captured the hearts of travelers and business people alike.
One of the reasons why investing in Tulum is highly worthed is the steady growth of tourism in the area. Thousands of tourists from all over the world flock to its beaches in search of a unique and authentic experience. The mix of its natural beauty and cultural heritage offers visitors a wide variety of activities, such as scuba diving, snorkeling, visits to cenotes, and exploration of Mayan ruins.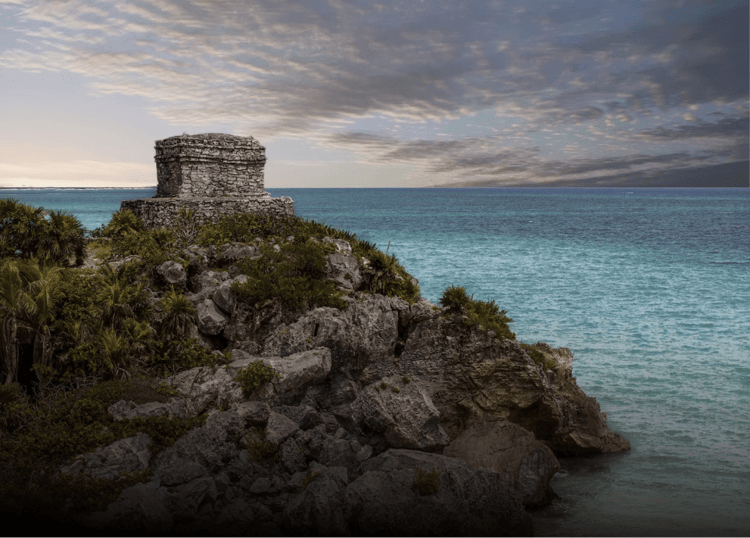 Due to this growing affluence, in recent years Tulum has experienced rapid real estate development. Exclusive boutique hotels, luxury condominiums, and private villas have attracted the attention of national and international investors looking for the optimum potential of this booming market.
The demand for real estate properties in Tulum continues to increase, which has generated a significant appreciation in land value and extraordinary profitability.
Last but not least, Tulum's relaxed and bohemian lifestyle is another attractive aspect for investors. This town has managed to preserve its natural and cultural essence, offering residents and visitors a tranquil and charming environment.
Attractions and best areas to Invest in Tulum
Located in the heart of the Riviera Maya, in the state of Quintana Roo, Tulum is a destination full of life that captivates visitors from all over the world. But what makes this destination so magical is that it has something for everyone, offering a truly paradisiacal quality of life.
Beach life. Tulum's greatest treasure is its white sand and turquoise waters that invite you to relax and enjoy the Caribbean sun. These beaches stretch along the coast, offering different areas to explore and discover, such as

the famous Tulum beach with its iconic Mayan ruins

in the background or the beaches of the Sian Ka'an Biosphere Reserve, perfect for admiring exuberant natural beauty at its best.
Archeological Sites. Tulum is home to an impressive archaeological site that takes visitors' breath away. The Mayan vestiges of Tulum, located on a cliff facing the sea, are a fascinating testimony to the rich history and culture of the region. In addition, Tulum is a perfect starting point to explore other nearby attractions such as the paradisiacal islands of Cozumel and Isla Mujeres or the impressive ruins of Chichen Itza.
Cultural and nightlife. Day or night, life in Tulum is vibrant and diverse, attracting residents and visitors alike with its bohemian charm and unique offerings. Downtown you can enjoy a dynamic cultural scene, with art galleries, artists' studios, and design stores showcasing local talent and traditional craftsmanship. During the day you can enjoy shopping at luxury malls, eating at gourmet restaurants, and gyms with an attractive offer of water sports and much more. . At night, the beach transforms into a party and music venue with live music bars and clubs, DJs, and themed events, creating an atmosphere that begs nothing from places like Ibiza or Costa del Sol.
Best investment areas in Tulum
3 main areas are considered the best for investment in Tulum, each with its characteristics and opportunities:
1. Hotel district: This area extends along the main road that connects downtown Tulum with the beach. Numerous boutique hotels, restaurants, stores, and entertainment centers are located here, so there is a high demand for tourist accommodations in the area.
Investing in a property within the Hotel area is an option that requires a high initial outlay, but the appreciation potential is attractive enough for experienced investors that are willing to take the risk.
2. La Veleta: Located south of downtown Tulum, La Veleta is a developing area with a more bohemian atmosphere and a large expatriate community. Here you will find residential and commercial projects, from private homes to art studios and stores
Investing in La Veleta is one of the best options since initial prices are still very affordable, generating an excellent profitability projection in the medium and long term.
3. Coba Avenue region: Coba Avenue is an important thoroughfare that connects downtown Tulum with the Hotel area. Residential and commercial real estate projects are being developed along this main road.
Investing in this area can be an interesting opportunity due to its growth potential and its strategic connection to other important areas of Tulum.

Best investment tips for Tulum
Tulum has many real estate options, and the offer will be on the rise in the following years. Because of this, it is important to focus on selecting the type of property that meets three important characteristics: exclusivity, flexibility, and profitability.
Exclusivity. The best real estate developments in Tulum

offers a wide range of amenities and services such as swimming pools, common areas, and security

, as well as exquisite interior design and luxury materials. These amenities increase the attractiveness and value of the apartments, which also translates into higher rental gains, better appreciation, and exponential income.
Flexibility. Buying an apartment in Tulum opens a wide range of possibilities, from

using it for personal vacations, renting it long term, or renting it during short periods

through platforms such as Airbnb. Offering an apartment on digital platforms opens the opportunity of generating a high and steady income, especially during the high tourist season, plus the enormous advantage of having the property available when needed. Also, condominiums usually have management and maintenance services included, which makes it easier to keep the property in good condition and provide services to guests or tenants. This can be especially beneficial for investors who do not reside in Tulum permanently.
Profitability. There is a significant growth in apartment rentals by digital nomads and people who work remotely. Due to their lifestyle and income level, these people are looking for "all-inclusive" spaces where they can have a stable lifestyle with all the amenities and comfort of a resort.
An apartment that meets these characteristics will undoubtedly remain occupied all year round, generating high rates of profitability in the short term. With this in mind, and as leaders in the creation of investment opportunities, Kelman has two luxury apartment developments in Tulum waiting for you
Know Humana Tulum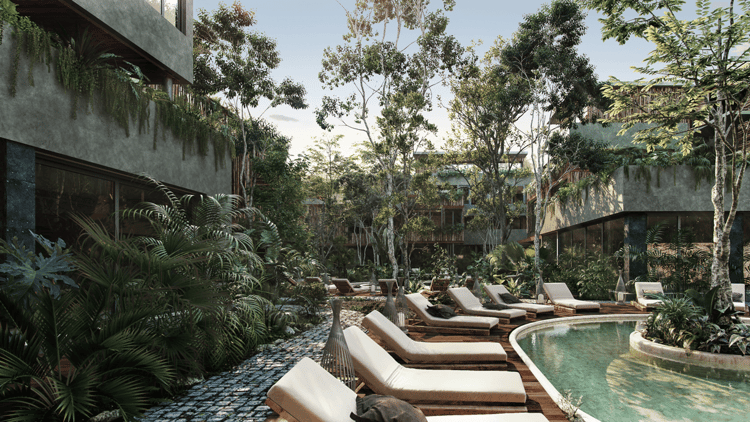 A luxury community with easy access to the best bars, restaurants, and resorts in the area, as well as the region's iconic Mayan ruins.
The design, architecture, and materials are designed to become a natural oasis within the city. And with all lifestyles in mind, Humana Tulum's amenities include:
Open-air cinema
Observation deck
Subway spa
Art center
Restaurant and bar
Among others
Know Ophelia
A development with studios and apartments, equipped with everything necessary for a quiet, full, and comfortable life. Among its amenities you will find:
Hammock area
Open Kitchen
Jacuzzi
Electric bicycles
Coworking area
Whether for living, vacationing, or renting, investing in Humana Tulum and Ophelia is synonymous with exclusivity and added value. In other words, an excellent investment opportunity that you can't miss.
Tulum, a secure investment
Investing in Tulum is a convenient and promising opportunity that will pay off for those who decided to take advantage of it today.

Its constant tourist growth and unique lifestyle make it the perfect destination for people looking to maximize their investments and become part of a vibrant and prosperous community.
Are you ready to invest in Tulum?
Now that you know the characteristics of this paradise, we invite you to learn more about the investment opportunities.